Saturday, June 5, 1993...
Now I know why north-central Texas and southern Oklahoma are rarely included on tour bus itineraries. There ain't nothin' here! In fact, the only truly worthwhile drives across mid-America are Route 66, the Lincoln Highway/US 30, and of course I-90 through South Dakota.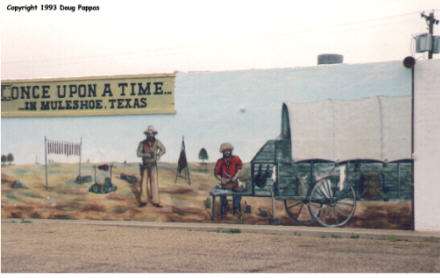 Aside from the National Mule Memorial statue in Muleshoe, TX and the misnamed World's Largest Peanut in Durant, Oklahoma, the highlights were crossing a couple of bridges. The road's mostly two-lane, with occasional four-lane stretches near what pass for cities in these parts...though I got all the way from New Mexico to extreme southeastern Oklahoma without passing through a town of 25,000.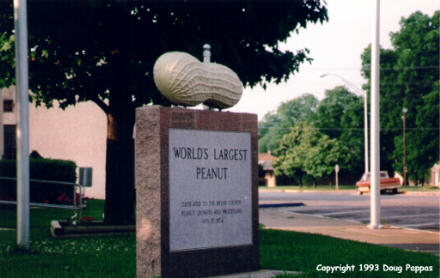 I'd planned to stop for the night in Hugo, Oklahoma, but the only two motels I passed looked like real fleabags, so I continued on to Idabel. I lucked out -- the Motel 9 on the east end of town, a Fifties-vintage place run by an Indian family, had plenty of rooms and acceptable, if faded, accommodations.

During the endless, boring drive, I occupied myself listening to sports on the radio and gaping in horror at a paid infomercial encouraging people to invest $10,000 in gold options, hosted by two shills who could hardly have been less convincing in their (contradictory) insistences that mining companies are cutting back on production even as public demand drives prices up. Also learned this afternoon that Conway Twitty just died -- I'll be driving right past Twitty City on Monday, and might just have to stop...
---
Go to the next day
Back to Old Road Trips menu
Back to ROADSIDEPHOTOS.COM home page