Sunday, June 6, 1993...
Continued across eastern Oklahoma and into Arkansas. The first few hours across western Arkansas passed uneventfully; this is serious timber country, with AMPLE humidity to support the trees.
First stop: Hot Springs, Arkansas and Hot Springs National Park. The town still hasn't sobered up from last November's election; "Boyhood Home of President Bill Clinton" banners are everywhere, and there's even a "Clinton/Gore Store" selling election-related memorabilia. I talked to one of its employees, a native who told me how many connections Clinton had begun to accumulate even before he left Hot Springs for college.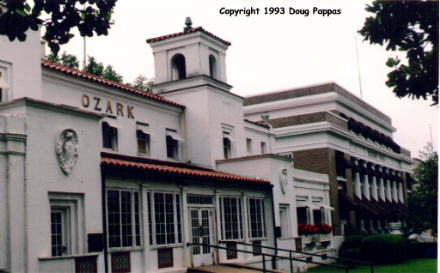 The National Park may be the nation's most unusual: the parkland encompasses the springs themselves and surrounding land in the middle of downtown Hot Springs, including the now-virtually-deserted Bathhouse Row where thousands used to soak, as well as the commercial strip across the street and an observation tower at the top. One of the bathhouses now serves as a National park visitor center -- instead of the usual park attractions it contains numerous dressing rooms, showers, tubs, a gymnasium, etc. Weird... I paused briefly in Little Rock to photograph the Capitol before continuing east.
East of Hot Springs, US 70 is usually known as "Broadway"; at one point the road was part of the "Broadway of America" trail. East of Little Rock, it also parallels I-40 all the way to Tennessee, usually a mile or two away. It finally joins I-55 for the trip across the Mississippi into Memphis -- in fact Routes 61, 64, 70 and 79 all share the same bridge, with I-40 carrying only its own traffic.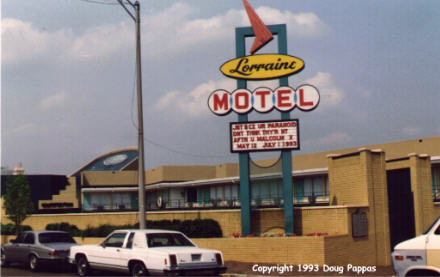 Once in Memphis, my first stop was the new National Civil Rights Museum built in and around the Lorraine Motel, where Martin Luther King was killed 25 years ago. One enters through what had been the motel office, into a museum containing black folk art, occasional special exhibitions (a multimedia Malcolm X exhibit was showing), an auditorium for films, and a multimedia timeline showing the progress of blacks in America from Colonial days through Dr. King's assassination, with special emphasis on the development of Jim Crow and the 1954-68 period. It was a bit sobering to see the overheated "states' rights" rhetoric used to shield bigotry, as well as the amazing litany of brutality perpetuated by bigots insisting that God was on their side.
Outside, one woman has protested the museum ever since it was first announced, insisting that Dr. King would have preferred to see the $9 million it cost spent on programs directly benefiting the poor; next to her, a number of merchants sell African-themed material and black-pride T-shirts. Driving out of the neighborhood, I met another local black capitalist -- an overweight hooker who offered to "show me a good time" if I drove her to a liquor store.
Two of Memphis's most distinctive traditions coexist a few blocks apart on US 70/Union Avenue. The Peabody Hotel houses five ducks who ride their own elevator down from the roof at 11 AM to spend the day splashing in fountains in the lobby, then waddle back to the elevator at 5 PM for a private ride back to their home. Hundreds of tourists line every vantage point in and around the lobby to witness the spectacle. The hotel gift shop sells a full line of duck-themed merchandise, and one of its restaurants is called DUX. I didn't ask what happens to waterfowl who fail their audition as lobby entertainment...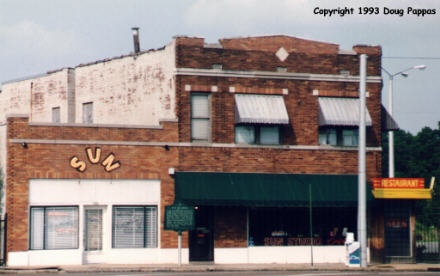 A half-dozen blocks to the east, 706 Union Avenue marks the birthplace of rock 'n' roll: the Sun Records studio. Elvis, Carl Perkins, Johnny Cash, Roy Orbison, and Jerry Lee Lewis - not to mention owner Sam Phillips' favorite artist of all, the immortal bluesman Howlin' Wolf - got their start here, and in a just world the Rock 'n' Roll Hall of Fame would be here instead of Cleveland.
Didn't turn south to Graceland (that's US 51, another trip...), instead following 70 clear to Nashville, over 200 miles away. Would have stopped sooner, but there's nowhere to stay between Jackson and Nashville. En route I listened to George Kline's "Original Elvis Hour" on WHBQ-Memphis, AM 570, a station understandably proud of its status as the first ever to play an Elvis record...
---
Go to the next day
Back to Old Road Trips menu
Back to ROADSIDEPHOTOS.COM home page