Thursday, June 24, 1993...
Continued on to San Diego, where I would take a four-day break from the road to attend the Society for American Baseball Research convention. Crossing the desert, I stopped briefly at the Old Territorial Prison in Yuma, then again at the Desert Tower in the central Mojave.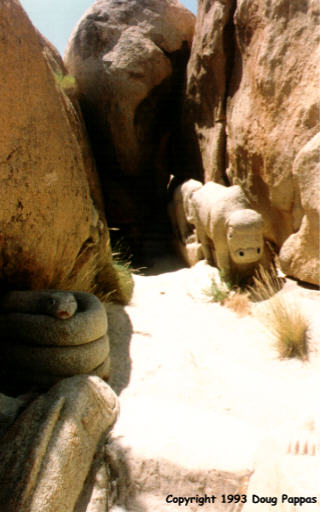 The Tower was built in 1921-22, when the road (then known as the Old Spanish Trail)came through. Situated atop a 3,000-foot hill strewn with granite boulders, it indeed offers an extensive view of the desert: the view from the summit would make a camel thirsty. The admission charge also includes access to a sandstone labyrinth of boulders where a whimsical sculptor has carved oversized lizards and other fantastic animal shapes out of the rock.

Most of the drive across California followed the Interstate, but at times I was able to find the old road. It's Imperial County road S80 for awhile, then later on it becomes El Cajon Boulevard. I followed El Cajon Blvd. to within two miles of its end before taking a wrong turn; since I'll be in San Diego through Sunday, I didn't bother retracing my steps but instead checked into the Town & Country Hotel, site of the SABR convention. Was almost certainly the only New Yorker to drive to San Diego for the occasion...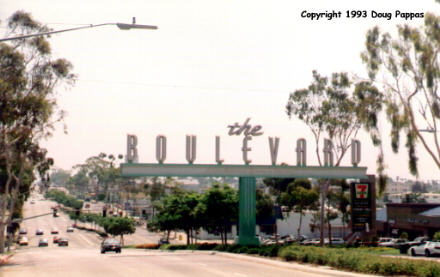 Saturday, June 26, 1993...
With a couple of hours to kill during the SABR convention, I drove back east a few miles to finish the US 80 trip. The road runs through Balboa Park, past the entrance to the San Diego Zoo, and into the seedier side of the city on 12th Street. The original end was at the junction of 12th and Main, but that intersection no longer exists; it was replaced by a parking structure and trolley depot. So I returned to the convention...but drove around the complex for 15 minutes looking for a place to park! We're sharing the convention facility with the Whole Life Expo, though it's not hard to tell the groups apart....
---
Go to the next day
Back to Old Road Trips menu
Back to ROADSIDEPHOTOS.COM home page