Monday, June 28, 1993...
Since my next road, US 97, runs only from the Canadian border to northern California, I had my choice of routes north. Started the day in a cheerful mood after logging onto the AP newswire and learning that Lyle Lovett had married Julia Roberts yesterday -- after all the pretty-boy actors she'd gone through, she marries an eccentric country singer. Then drove to the Reagan Presidential Library in Simi Valley, which was about the best way possible to ruin my mood.
The Reagan library certainly reflects the man it honors: superficial to a fault. It's constructed in the same phony Mission style found in suburban housing developments throughout the region -- I especially liked the main entrance, where anyone who looks up while passing through a "Mission" arch can see the rows of treated wood forming the understructure of the arch. It's also hilariously inappropriate for a President born in the Midwest and associated with Western, not Mission, imagery, but why would anyone expect Reagan to understand such things?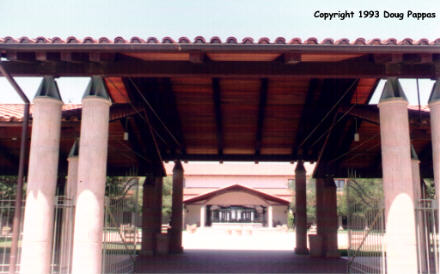 The inside's no better: Reagan's career is covered in a few panels, before the display moves on to an even more obnoxious than usual glorification of St. Senile: a list of what was wrong with America in 1980, contrasted with what was right with America by 1988. A collection of artifacts and interviews with Eastern Europeans, whose political freedom Reagan takes credit for, and the inevitable piece of the Berlin Wall serve as the only legitimate history. Meanwhile, the displays of gifts received from foreign leaders and White House china/social schedules take up almost as much space as the summary of eight years of Reagan's Presidency! Nancy, of course, receives her own deification, and perhaps at her instigation I saw no mention of Jane Wyman. Pat Nixon died last week -- I know a far worthier candidate...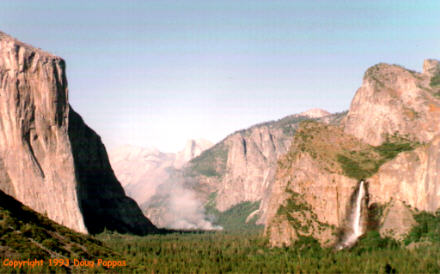 Then I continued north towards Yosemite. Had planned to stay around Merced, but got there at 4:00, so I drove on towards the park, thinking maybe I'd find someplace close in. I didn't, but got to see Bridalveil Falls in full cascade with this year's runoff, and visited Glacier Point shortly before sunset. I wound up driving south to a motel in Fresno, from which I'll head north again in the morning...
---
Go to the next day
Back to Old Road Trips menu
Back to ROADSIDEPHOTOS.COM home page