Tuesday, June 29, 1993...
Slept later than I'd planned, so I didn't get back to Yosemite until 9:00. I took a quick detour to the Wawona grove of giant sequoias (impressive enough for those who haven't been to Sequoia National Park) and the Pioneer Yosemite history exhibit (which can be skipped) before returning to Glacier Point and America's single best view. Returning to the valley, I visited Yosemite Falls, third tallest in the world, with the torrents of water glistening in the sun -- the sight was so inspiring that I began the 3.8-mile hike towards the top of the Falls, stopping when I realized how steep the climb would be and that the path was covered with jagged rocks which would require my constant attention. Oh well, the Falls still look damn good from the ground...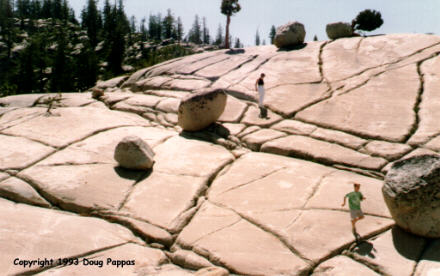 After a swing through the Yosemite Village stores, Ground Zero for Ansel Adams prints and reproductions, I took the cross-Park road nearly all the way to Tioga Pass at the eastern entrance, turning around at Tuolumne Meadows, then drove north from the northwestern entrance to Hetch Hetchy reservoir, which serves San Francisco -- its construction in the 1915-22 period flooded a valley said by many to compare to Yosemite Valley. It still contained a couple of large waterfalls. Then I headed west, back toward central California -- stopped for the night just south of Sacramento. The next two days will require some serious driving...especially since I don't know where I'll be staying tomorrow...
---
Go to the next day
Back to Old Road Trips menu
Back to ROADSIDEPHOTOS.COM home page