Friday, July 2, 1993...
Slept late, then drove south to Seattle to begin the US 10/I-90 cross-state trip. This was supposed to be among the easiest days' drives I've had in a long time, and it was. Though it rained in Seattle, preventing me from getting any interesting photos of the city except for the on-ramp to I-90 (interesting mostly because I had to stop the car on the left shoulder of an Interstate during a heavy rainstorm to get the picture), the rest of the journey was equally uneventful. The rains lasted until I'd cleared the Cascades, with occasional showers in eastern Washington.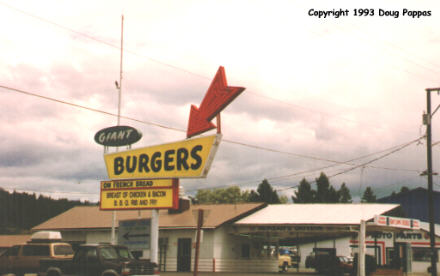 After a scenic crossing of the Columbia River (dammed once again...), I cruised on into Spokane, arriving shortly before 5 PM. I didn't want to take any chances on not finding a motel, so when the Motel 6 showed vacancies, I grabbed it and settled in for an evening of reading, responding to Email, and watching baseball. The Phillies insulted their fans by continuing through six hours of rain delays during the first game of a doubleheader, then starting the second game at 1:30 AM...and it went extra innings! That's just ridiculous.
---
Go to the next day
Back to Old Road Trips menu
Back to ROADSIDEPHOTOS.COM home page