Saturday, July 3, 1993...
Left Spokane at about 9:00, reaching Butte, Montana roughly eight hours later. Stopped at the Old Mission State Park near Cataldo, Idaho -- the oldest surviving building in the state, constructed 1850-53 and still used once a year by the Nez Perce Indians for religious services. Next came Wallace, Idaho, which was finally bypassed by the Interstate in September 1991. Because this old mining town sits in such a narrow canyon, the Interstate had to be built directly atop the railroad tracks, about 30' off the ground. It dominates the town's skyline, but has allowed the town to retain its historic character -- a sign proclaims that Wallace is the only town in America entirely on the National Register of Historic Places.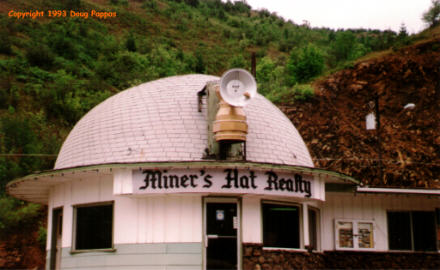 In Montana, I stopped in Deer Lodge at an odd combination of attractions: the Towe Ford Museum and Old Montana Prison. The prison housed inmates from 1871 until 1979; visitors tour the towers, cellblocks and maximum security wing, eventually reaching the Montana Law Enforcement Museum, which honors Montana police officers killed in the line of duty. From the display, law enforcement is much safer nowadays; most of the recent fatalities were hit by drunk drivers, not gunned down by outlaws.
The Towe Ford Museum contains over 100 beautifully restored antique Fords dating to 1903, all beautifully restored. Highlights include a 1922 Ford camper, a World War II Ford Jeep and the infamous Edsel. [Alas, the collection was later broken up and sold to satisfy its owner's IRS debts.]
Stopped in Butte to visit my Uncle Doug and Aunt Pat for the Fourth of July. After watching Butte's fireworks show Saturday night, we checked out the Fourth of July parade on Sunday: 105 entries covering a fourteen-block stretch of Harrison Avenue. I then drove around Butte by myself for a while. Early in the century, Butte was America's mining capital. 80,000 people once lived here, now fewer than 35,000 remain. My uncle, for whom I was named, and my father were born in Butte during the Depression; when they were orphaned as children, Dad left and Uncle Doug stayed. He's still there. The legacy of Butte's early prosperity and 60-year decline includes one of the country's largest and best-preserved Victorian historic districts -- it's an urban ghost town, it's as though everyone moved away, leaving only the old businesses.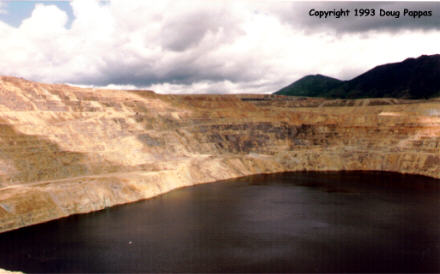 The most visible abandoned business is an ugly scar on the edge of downtown. The Berkeley Pit, America's largest open-pit copper mine until it closed in 1983, is now a shrine to environmental contamination. It's a mile long, more than a mile wide and up to 1,800' deep - but for the past decade, water has been percolating up through abandoned mineshafts to create a toxic lake 1,000' deep. Birds that land on it die almost immediately. The water level continues to rise about two feet per month. From the observation deck overlooking the Pit, it's like surveying the aftermath of a plane crash...
---
Go to the next day
Back to Old Road Trips menu
Back to ROADSIDEPHOTOS.COM home page