Monday, July 5, 1993...
Back on the road. All today's driving was in Montana, home of the world's most lenient speed limits. Anything under about 80 MPH means only a $5.00 fine, assuming that some member of the understaffed police force actually pulls you over.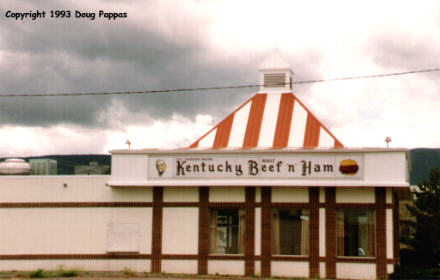 Today's first stop: Missouri Headwaters State Park north of Three Forks. The "three forks" are the three sources of the Missouri River: the Madison and Jefferson Rivers, which join to form the Missouri, and the Gallatin, which adds its flow a half mile later. There's an interpretive exhibit at the Gallatin junction, as well as signs at the Madison-Jefferson confluence. Between Three Forks and Bozeman, old US 10 survives as SR 205; further on, it's often visible as an unnumbered road paralleling the Interstate.
Seven miles south of Logan, most of it over a dirt road, is the Madison Buffalo Jump State Monument, guaranteed to disillusion anyone who clings to a romantic image of the lone Plains Indian warrior foraging for game. In fact, they relied upon a much more effective technique: teams of mounted Indians stampeded hundreds of buffalo over the edge of this high cliff, while their colleagues waited below to carve up the remains. The Indians then hauled off all the meat and hides they could carry, leaving behind a buffet for every scavenger within fifty miles. Wasn't impressed by the nearly Greystone Prairie Dog State Monument, a prairie-dog village which happened to survive because of one man's lobbying..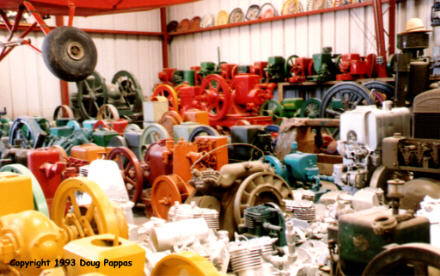 Five miles west of Billings, and a mile south of the frontage road, sits Oscar's Dreamland, a smaller-scale version of Harold Warp's Pioneer Village created by one Oscar O. Cooke. Mr. Cooke is still alive and wandering the grounds at age 92! I met Cooke while paying the admission fee to (I think) his daughter -- the place was nearly deserted, which is a shame given all the effort he'd put into assembling the world's largest private collection of farm machinery: 300 tractors, 100 threshers, and 40 steam engines, along with Model Ts, an operating Ferris wheel, a small town with 10 historic buildings, and much more over 19 acres of pasture. The place does very little advertising, though (didn't even see a highway billboard, though there were a few signs on the frontage road), and I suspect it may not be long for the world once Oscar vanishes from the scene. [It wasn't. Cooke died in 1995 and the collection was sold in 1999. Several of the tractors sold for more than $100,000. Cooke's heirs still own the land, which is being developed as a family park.]
35 miles east of Billings, I stopped to visit Pompey's Pillar, containing the only tangible evidence of the Lewis & Clark expedition: William Clark carved his name into the sandstone on the return trip in 1806. This 200' tall landmark sits on the banks of the Yellowstone River, on what are now Forest Service lands; there's a new walkway to the top and a small new visitor center which opened either last summer or this spring. To deter vandalism, a replica of the carving is displayed at the visitor center, where tourists can create rubbings to their heart's content. I continued on to a motel in Glendive, Montana...
---
Go to the next day
Back to Old Road Trips menu
Back to ROADSIDEPHOTOS.COM home page