Tuesday, July 6, 1993...
Today's sightseeing began at Theodore Roosevelt N.P. in Medora, ND -- a 36-mile swing through the North Dakota badlands, with a half-dozen prairie-dog towns for variety. The best single view in the whole park, though, is from the Interstate rest area overlooking the park!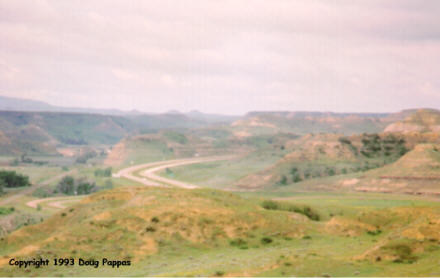 Further on, I stopped in New Salem to visit with "Salem Sue," the World's Largest Holstein, symbol of the North Dakota dairy industry. Sue's a $40,000 hunk of fiberglass measuring 38' tall by 50' long. A visitor standing at her base can gaze up at the blood vessels around her udders, or out across miles of near-featureless North Dakota prairie.


In Bismarck, I swung past the state government complex for a better view of the bizarre North Dakota Capitol. A 19-story Art Deco tower constructed in the early 1930s, it looks more like a reject from Rockefeller Center than anything you'd expect to find in the Wheat Belt. Then came Jamestown, home to the Frontier Village: a bunch of old North Dakota buildings assembled in one place, many of them painted in very artificial colors and styles, plus a herd of live buffalo and the (concrete) World's Largest Buffalo at the end of the road, overlooking the Interstate.
Five miles west of Fargo, US 10 finally emerges from the shadow of I-94. After dumping my bags at the motel, I drove to North Dakota's only shrine to New York baseball history: the West Acres Mall. A series of inconspicuous display cases in one corner of the mall is designated the Roger Maris Museum. It contains the late Yankee slugger's MVP awards, Hickok Belt, key 1961 home-run balls, and memorabilia from his days in Fargo. In life, Maris always took a back seat to Mickey Mantle - perhaps this is his way of thumbing his nose at New York.
---
Go to the next day
Back to Old Road Trips menu
Back to ROADSIDEPHOTOS.COM home page