Wednesday, July 7, 1993...
Left Fargo at 7:15 AM, bound for an afternoon ballgame at the Metrodome. En route there wasn't a damned thing to distract me in any way, just four lanes with very little traffic until I approached the Twin Cities. The stadium's located downtown, right near the Minneapolis waterfront, and relies on local parking facilities -- most of 'em close to the park filled early on.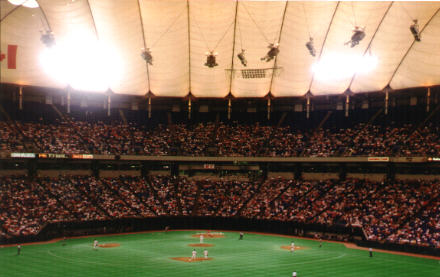 At the ticket window, I lucked into an eighth-row field box seat, slightly past the third-base bag, which had been turned in by a season-ticket holder. After entering at street level, I was at the top of the lower deck. The field must be fifty feet below ground level, which helps the air-supported roof maintain a relatively low profile against the skyline. The park was constructed for, and is oriented toward, football: it's a rounded-rectangular structure, with the folded-up sideline seats in right field covered by the infamous "Baggie," now decorated with the logos of past Twins championship teams. Another interesting phenomenon: because of the internal pressure required to support the roof, fans opening the doors to leave create a breeze that virtually propels them out into the street!
When I left, Minneapolis was experiencing a hard rain that helped stall departing traffic for close to half an hour. I abandoned, at least temporarily, plans to drive the rest of US 10 in the Twin Cities and concentrated on finding a motel. After the rain stopped I tried to follow 10 towards St. Paul, but while the 1938 path remained drivable, there was nothing remotely of interest along the way. Tomorrow it's on to Milwaukee -- I'll finish the western 9/10 of US 10, then add another stadium to the list.
---
Go to the next day
Back to Old Road Trips menu
Back to ROADSIDEPHOTOS.COM home page