Thursday, July 8, 1993...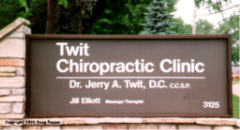 Began the day by checking out used bookstores in the Twin Cities, finding nothing of interest, before crossing the St. Croix River into Wisconsin. Wisconsin's scenery along US 10 was everything Minnesota's was not: interesting, picturesque and accessible. Wisconsin keeps US 10 as a two-lane road for most of its trek across the state, and it courses up hills and through fertile farmlands on its way to the Lake Michigan ferry at Manitowoc.
A mile east of Neillsville, I stopped for a roadside double: the World's Largest Replica Cheese and World's Largest Talking Cow. "Chatty Belle," the cud-chewing communicator, sings the praises of Wisconsin's dairy industry, and the trailer next to her contains a full-sized replica of a 17-ton Wisconsin cheddar manufactured for the 1964 New York World's Fair. Fortunately for everyone downwind, the original cheese was consumed in 1965. The Wisconsin pavilion from that fair, relocated to this site, now houses the world's only combination radio station and cheese store.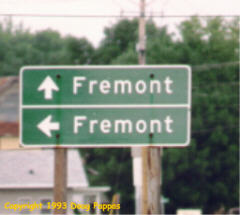 Soon thereafter, though, the rain and fog hit, eliminating any chance I might have had to photograph the scenic Wisconsin farmlands. US 10 dead-ends in Manitowoc, where it crosses Lake Michigan on a ferry to Ludington, MI. Opting to circle the lake instead of floating across it, I headed south to Milwaukee.
Got my money's worth during tonight's visit to Milwaukee County Stadium. It had rained off and on for my last three hours of Wisconsin driving, so my first priority upon arriving was to secure a seat where I wouldn't get rained on. $15.00 secured got a seat in the football press box, on the mezzanine level next to what pass for luxury boxes in 40-year-old County Stadium. I and about fifty others sat in an enclosed box down the first-base line, with two TV monitors and the radio play-by-play, while the rains delayed the start of the game by an hour and a half. We were the dryest people in town.
Once the game began, the box's isolation proved disconcerting. We weren't part of the normal stadium hubbub and noisemaking, hearing it better over the radio than through the walls of the box. The park itself reminded me of Baltimore's Memorial Stadium, also of about the same vintage -- a perfectly serviceable facility that's being replaced because the team owner wants to sell luxury boxes. This being Milwaukee, the concessionaires offered several sausages in addition to the usual hot dog.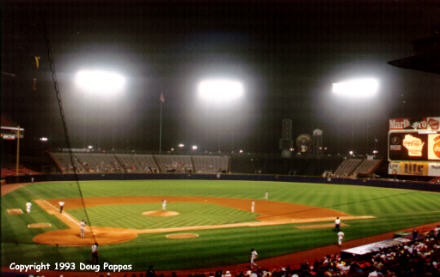 The rain delay forced me to break my rule against leaving in midgame. My motel reservation was two hours away, in Hammond, Indiana; even after departing during the seventh-inning stretch, I didn't get there until 1:10 AM...
---
Go to the next day
Back to Old Road Trips menu
Back to ROADSIDEPHOTOS.COM home page