Saturday, April 23, 1994...
Another year, another "road" trip: US 17 south from Virginia to Florida, then US 92 back across Florida, US 90 from Jacksonville to Van Horn, Texas, and finally the bizarrely routed US 62, connecting the border towns of El Paso, Texas and Niagara Falls, New York. Richard Nixon died the day before I left - as a result, everywhere I went I saw flags at half-staff, welcome reminders that Tricky Dick was finally dead.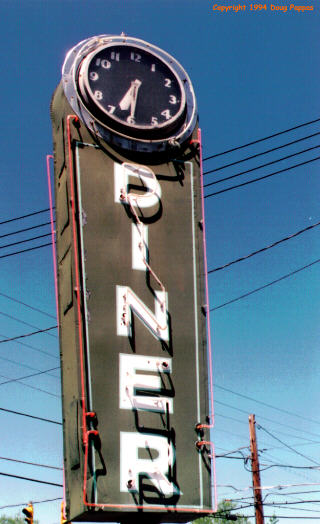 The trip started with a flight to Pittsburgh. First task: get to US 17, about 200 miles away. I-79 south to I-68 east to I-81 south to US 11 and I was there, reaching Winchester, Virginia at about 1:00. US 17 apparently begins at the junction with US 11, though several new signs seem to relocate the start at the junction with I-81. Ten miles from Winchester, I took a brief detour to the one and only Dinosaur Land.
Dinosaur Land, in White Post, Virginia, advertises that behind its hedge stand 35 concrete replicas of prehistoric animals. Couldn't prove it by me -- the exterior and gift shop offer all the entertainment I need for free. Several of the fierce cement creatures are mounted in the parking area. The terrible open jaws of another ferocious beast hide the entrance. With these lot lizards offering fine photo opportunities for free, why pay?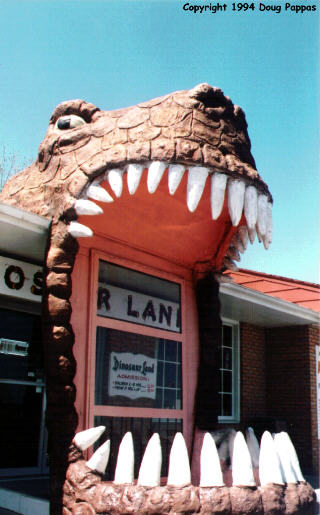 And if a paid admission transports visitors to the Jurassic Era, one look at the postcard rack and it's 1969 all over again. Although Dinosaur Land may finally have exhausted its supply of vintage postcards showing its sign (which then ended, "REAL COOL! YEH MAN"), it still carries at least a half-dozen cards depicting Partridge Family refugees climbing on the dinosaurs. My special favorites are the Corythosaurus (geeky teenaged girl in black and white minidress) and Tylosaurus (7-year-old in patterned blue bellbottoms).
The rest of the day's drive paled by comparison. 17 crosses northern Virginia to Fredericksburg, halfway between Washington, D.C. and the Confederate capital of Richmond. The area saw so much combat during the Civil War that its National Military Park preserves the sites of four separate battles. Fredericksburg, Chancellorsville, The Wilderness and Spotsylvania Court House. Chancellorsville's where Confederate general Stonewall Jackson was fatally wounded by one of his own men, while Spotsylvania is best known for Union general John Sedgwick's confident, if inaccurate, last words: "They couldn't hit an elephant at this distance."
17 then continues east to Yorktown, paralleling I-64 most of the way. Since I'd already seen Yorktown and it was getting late, I continued south to the junction with I-64 and headed west to Richmond for an evening of socializing and baseball-watching with Dan N.
---
Go to the next day
Back to Old Road Trips menu
Back to ROADSIDEPHOTOS.COM home page