Sunday, April 24, 1994...
Resumed the journey south from the I-64 junction, US 17 crosses the James River on a bridge that must run two miles, then passes over several tributaries and through totally uninteresting territory on its way through the tidewater area. It then parallels a canal as it passes through the attractively-named Great Dismal Swamp region on the way into North Carolina.
Across the Albemarle region of northeastern North Carolina, 17's mostly a four-lane divided route. I didn't reach New Bern until 5:00, by which time Tryon Palace -- a restored Colonial estate reminiscent of Colonial Williamsburg's Governor's Palace -- was closed.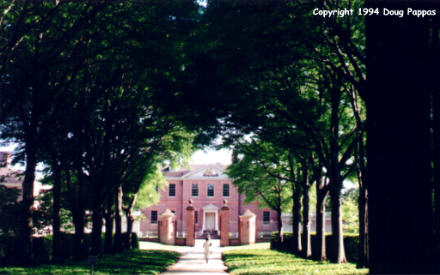 Further south, the area around Jacksonville, NC -- gateway to Camp Lejeune -- was as scuzzy as expected...lots of tattoo parlors and "nightclubs" advertising women willing to travel. At an earlier hour I would've liked to explore Wilmington, NC, which has Colonial history and a couple of World War II naval ships, but the sun was setting and I wanted to be sure of making Myrtle Beach. I got there shortly after nightfall: exactly the right time to see it at its "best."
Myrtle Beach must be the nation's capital for miniature golf, fireworks, and beachwear. The Wings and Eagles chains each have over a dozen brightly lit beachwear shops along US 17, which divides north of town. My motel was along the bypass, while the main route runs right through the tourist district. Most of the motels are on Ocean Ave., which parallels 17 to the east.
Myrtle Beach is also being developed as an East Coast version of Branson, Missouri, with the Carolina Opry and Alabama Theatre offering musical entertainment for the taste-impaired.
I would have liked to swing through the motel district, but by now I was seriously annoyed by a problem with the rental car: the speedometer and odometer suddenly failed, leaving me with no way to gauge my speed! It worked again after I let the engine cool for a few minutes at the motel, but if it recurs I'll have to do something about it. Open roads with no odometer are annoying enough, but no speedometer is an open invitation to a dozen speeding tickets....
---
Go to the next day
Back to Old Road Trips menu
Back to ROADSIDEPHOTOS.COM home page