Monday, April 25, 1994...
Spent an uneventful hour and a half driving south to Charleston, then six eventful hours in and near the city. First stop: Patriots Point, just north of the Cooper River Bridge into the city, which features the carrier U.S.S. Yorktown and other vintage military ships and aircraft, as well as boat rides out to Fort Sumter, where the Civil War began.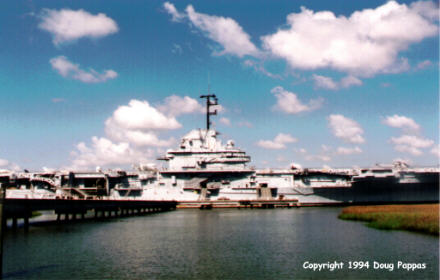 The cruise to Fort Sumter takes a total of two hours, with one of those hours spent in transit. Charleston Harbor's nice, but since Sumter's museum was closed, the stop could've been 20 minutes shorter. Then I wandered around the aircraft carrier for 45 minutes -- I hadn't realized just how cramped the quarters could be even on such a huge vessel. Thankfully, my generation doesn't have so many memories of either war or oversized seagoing vessels...
I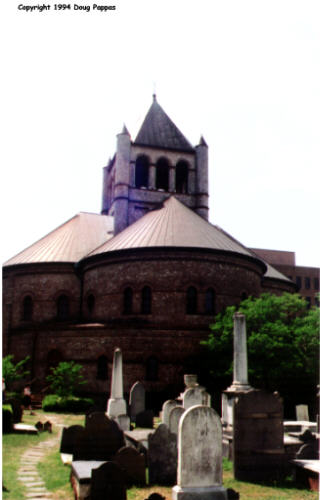 then crossed to the Charleston side of the Cooper River, parked near the visitor center, and spent an hour and a half wandering the picturesque streets of the downtown area. Before the Civil War, Charleston planters and merchants constructed hundreds of fine buildings; most survive because the war devastated the local economy so badly that no one could afford to build anything new. Today strict preservation laws maintain the integrity of Charleston's waterfront district, where church spires remain the tallest buildings and even the alleys feature gardens, beautifully detailed ironwork, and other hidden treasures.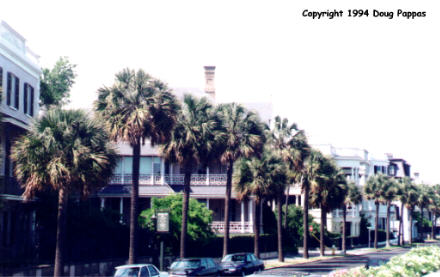 Walked around Charleston until after 4:00, by which time it was unfortunately too late to visit any of the Ashley River plantations just west of town. Continued south on 17 past Savannah, Charleston's only architectural rival. Charleston has more historic buildings, but Savannah's grid pattern makes its historic area easier to navigate. From Savannah south, 17 finally assumed the familiar look of a bypassed main road paralleling the Interstate. I continued to Brunswick, GA, where I spent the night...
---
Go to the next day
Back to Old Road Trips menu
Back to ROADSIDEPHOTOS.COM home page