Tuesday, April 26, 1994...
Followed 17 south from Brunswick, GA to the end of the road in Punta Gorda, FL, watching it metamorphose several times. The Georgia stretch is a two-lane road bypassed long ago by the Interstate; a small rest area at the Florida border has been ignored for decades. In Florida, the most noteworthy sight is the sign announcing the Jacksonville city limits fifteen miles outside anything urbanized. Assuming normal growth patterns, Jacksonville could be among the country's 10 most populous cities in another thirty years just by virtue of having annexed every conceivable suburban site.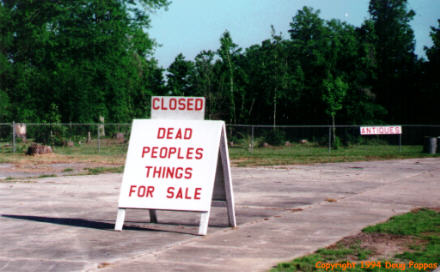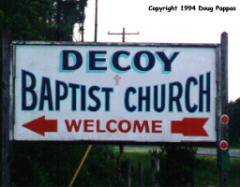 Once in Jacksonville, 17 loops and bends several times as it crosses bridges. It re-emerges as it turns inland, passing the Jacksonville naval station. The route remains rural until just outside DeLand, where miles of tackiness are redeemed somewhat by a small but highly picturesque downtown. From there down to the northern side of Orlando, various stretches bear signs of fairly recent growth. On the south side of Orlando, though, 17 (and 92 with it) take on the unmistakable look of an old-time commercial strip gone steadily downhill. Used-car dealerships, junkyards and topless bars compete with forty- and fifty-year-old motels for frontage space, while more modern development has followed the miles of new freeway.
Finally, just north of Kissimmee, I encountered the welcoming green-painted jaws marking the entrance to Gatorland, the tourist trap which accurately dubs itself "The Alligator Capital of the World." No other attraction exploits these primitive reptiles in as many ways: visitors can view two-inch-long gators in the hatchery, then buy gatorskin wallets, belts and boots, gator meat, and gator chowder at the gift shop. Between the nursery and the slaughterhouse, the gators swim and crawl for their supper.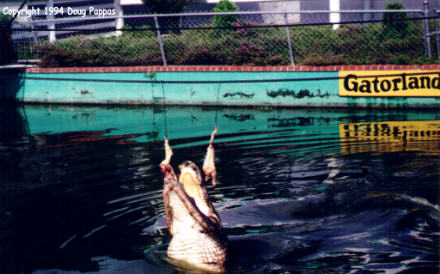 While Gatorland exhibits a few monkeys, birds and snakes, its 5,000 gators are never far from the center of attention. Gatorland's signature show is the "Gator Jumparoo," in which the beasts hurl themselves up from the water to snatch whole chickens from a wire suspended above their pond. Gatorland also offers a snake show, a gator-wrestling exhibition, a swamp walk, and countless large, hungry-looking critters waiting for a clumsy tourist to slip from the walkway.
Just down the road, the mammoth Tupperware World Headquarters offered the Museum of Historic Food Containers. After Gatorland, burping plastic just seemed too tame to stop. I continued south, following developed areas as far as Winter Haven before turning south through citrus groves and small towns apparently populated by migrant workers. Several nasty thunderstorms reminded me just how humid this place is. I finally reached the end of the road, at the junction with US 41 in Punta Gorda, shortly after 7:30. Two hours later, I was checking into a motel in St. Petersburg, ready for a quick dash up tiny US 92.
---
Go to the next day
Back to Old Road Trips menu
Back to ROADSIDEPHOTOS.COM home page