Sunday, May 1, 1994...
For the first time on this trip, I finished the day's travels early! Aided by a time change, I reached my motel in Hobbs, NM at 5:15 PM. If I hadn't made a (totally unnecessary) reservation, I could easily have continued on to Lubbock before nightfall. But what the heck, I've earned a short day...and when an 11-hour day which includes three miles of walking and 400 miles of driving can be considered "short," I haven't been cheated.
The morning began with a sprint to El Paso along I-10. I detoured a few miles to look at two of the four local missions, then headed for US 62's start at the Mexican border. The road seems to take two forks here: El Paso Drive and Stanton Street, with Stanton Street being the smaller but better-marked border crossing. US 62 soon turns east on Paisano Drive.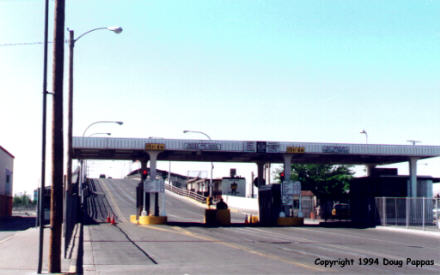 Barely two miles later, I came to Chamizal National Monument, one of the more unusual sites in the national park system: it was created to commemorate the peaceful settlement of a border dispute.

The Texas-Mexico border has always followed the Rio Grande River -- but the Rio Grande, like most rivers, has a nasty habit of carving new channels. One such channel left almost 1,000 formerly Mexican acres on the American side of the river at El Paso. Finally the U.S. and Mexico agreed to build a concrete channel to contain the Rio Grande, and to commemorate peaceful resolution of their border disputes with parks on both sides of the new official border. Chamizal was developed as a performing-arts park, with a 500-seat auditorium and outdoor amphitheater. There's a large mural and a gallery of Mexican and American art, but this is definitely a political, rather than historic or cultural, monument.

US 62 leaves El Paso heading due east, while all the other main roads veer southeast. Seventy or so miles later, it turns northeast to national park country. First comes Guadalupe Mountains National Park, a hikers' preserve with essentially no facilities. Across the New Mexico border, Carlsbad Caverns National Park is definitely user-friendly.

To my delight, most of the cave is explored in two mile-and-a-half self-guided tours which I could cover at my own pace, which is at least 50% faster than the typical tour group. The first tour, the Blue Tour, enters through the cave's natural entrance, down hundreds of steps; the second, Red, Tour begins at the cave elevators and takes one on a walk around Carlsbad's Big Room, largest cave chamber in America. The kitsch quotient is enhanced by the ability to buy souvenirs and mediocre sandwiches -- and even make phone calls -- from an underground cafeteria 750' below ground level.
After the Caverns, I stopped at White's City, the gateway/tourist trap. Like Ruby's Inn outside Bryce Canyon, White's City has a market and Best Western; unlike Ruby's Inn, White's City has an amusement arcade featuring old and new pinball/video games (I played a 1947 Williams pinball machine) and the "Million Dollar Museum," which offers 11 rooms of miscellaneous local and "Western" junk for $2.50. I continued north on US 62 (here known as National Parks Highway) through the town of Carlsbad and its marvelous old tourist architecture, winding up in decidedly uninteresting Hobbs with a lot of time to kill...
---
Go to the next day
Back to Old Road Trips menu
Back to ROADSIDEPHOTOS.COM home page