Wednesday, May 4, 1994...
Drove another 400-plus miles through picturesque country, though without seeing anything much of distinction. The first hours, through the Ozarks, were marred by fog; by the time I came out of the fog, the terrain was flattening out for the rice belt of northeastern Arkansas andsoutheast Missouri. In Missouri I stopped for another helping of throwed rolls at Lambert's Cafe in Sikeston -- I ordered country ham, prepared with about three times the necessary salt.
After a brief stop at the "Boomland" fireworks/souvenir store, I followed 62 across the same bridges US 60 follows to cross the Mississippi and Ohio Rivers at Cairo, IL. 60 and 62 actually spend only 2/10 of a mile on Illinois soil between bridges. Both the Mississippi and Ohio Rivers were noticeably higher than normal -- maybe not quite a flood, but pretty close.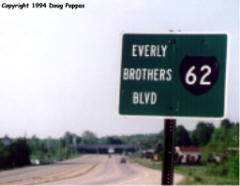 The road passed just to the north of the picturesque Land Between the Lakes region, created by a pair of TVA dams, then across lush green fields and rolling hills in western Kentucky. I checked into a motel in Elizabethtown, KY, then drove forty miles south to check out the neon around Cave City. Alas, the Wigwam Village didn't leave its lights on....
---
Go to the next day
Back to Old Road Trips menu
Back to ROADSIDEPHOTOS.COM home page