Thursday, May 5, 1994...
After breakfast, I began the day at the thirst-inducing Schmidt's Coca-Cola Museum in Elizabethtown, KY. It's a combination museum and factory tour: after following a catwalk above conveyors and other machinery used to bottle and can today's soft drinks, visitors reach a collection of Coca-Cola memorabilia second only to the company's own World of Coca-Cola in Atlanta.
The Schmidt family has been bottling Coca-Cola in Kentucky since 1901. They've saved a copy of every promotional item ever to pass through their hands: clocks, trays, calendars, thermometers, coolers, vending machines, even a 3' high Tiffany stained-glass Coke bottle. The chronological arrangement doubles as a survey of changing notions of female beauty, from the voluptuous Gibson Girls depicted on turn-of-the-century advertisements to rail-thin California blondes in bikinis during the 1960s.
Then came the harder stuff: the Oscar Getz Museum of Whiskey History in Bardstown. Located, appropriately enough, in a town between the Maker's Mark and Jim Beam distilleries, the Museum of Whiskey History displays two centuries of whiskey-related artifacts assembled by the late Oscar Getz. Unfortunately, most of them are pretty dull -- how many old bottles, flasks and jugs do you really want to see? The more interesting items include liquor advertising and a Prohibition display. A 175-year-old cathedral seems to cast a disapproving eye on the surroundings.
East of Bardstown, 62 enters horse country, passing near Frankfort and then just north of Lexington. Eventually the terrain changes; 62 rides the crest of a series of ridges through tobacco country before turning northeast to cross the Ohio at Mayville.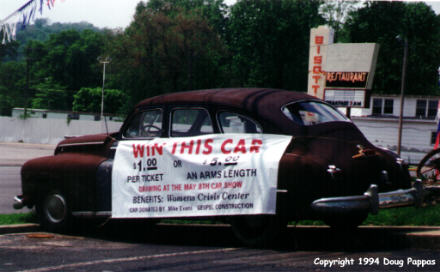 Ohio's got more small towns with ornate century-old courthouses, and courthouse squares, than any other state, but the area between towns is deadly dull. I also made the mistake of reaching Greater Columbus right at the beginning of rush hour; it took me 45 minutes to clear town. Eighty miles east of Columbus, though, I was very pleasantly surprised to find actual points of interest: the Berlin area offered authentic Amish in buggies, cheese shops to rival Wisconsin's (one claimed the world's largest cuckoo clock, another, the world's largest cheese wheel), and hills that made the local claim to be the "Switzerland of America" slightly less hilarious. But the sun was too low to photograph anything tonight -- I'll backtrack in the morning. Spent the night in Canton.
---
Go to the next day
Back to Old Road Trips menu
Back to ROADSIDEPHOTOS.COM home page