Friday, May 6, 1994...
Returned to Ohio's Amish country this morning to check out the big cheese and grand cuckoo. Near Berlin, Heini's Cheese Chalet attracts visitors with its 20,462-pound refrigerated wheel, which in the event of a power failure would quickly become the state's largest visitor repellent. A few miles northeast in Wilmot, Alpine-Alpa ("Ohio's Showplace of Cheesemaking") adopts a Bavarian motif. An animated oompah band in front of its 23-1/2' high rooftop cuckoo clock performs every half hour; downstairs, its cuckoo-clock shop is almost as large as the cheese store.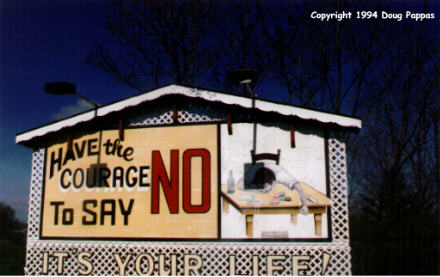 When I walked up to wait for the clock, the only other visitors were a couple from the Cleveland area with their grandson, who looked to be about seven. At his request, they drive down several times a year to see the cuckoo clock. The young boy watched, enraptured, as the mechanical band went through its paces; watching him, the grandparents too began to beam. I don't regret not having children, but at moments like this I think it might be nice to have grandchildren...
US 62 is lots of fun through here, but becomes less so approaching Youngstown, where it angles across industrial land that has seen better days. Ohio also deserves some sort of prize for the best rest areas along secondary road. Western Pennsylvania, where 62 is signed as a north-south road, isn't much better, though some of the more mountainous area is fairly picturesque. The road becomes much duller north of Warren, PA, and doesn't get any better in western New York.
I continued to Buffalo, where the road becomes downright unpleasant in spots. Could have continued on to the end of the route in Niagara Falls, but what was the point? The overcast wasn't conducive to photography, and after I found Bill James's new book on the Hall of Fame at a local bookstore, all I wanted was a quiet, well-lit reading chair...
---
Go to the next day
Back to Old Road Trips menu
Back to ROADSIDEPHOTOS.COM home page