South Dakota: Corn Palace Photos



back to Mitchell

Even seasoned road trippers run out of adjectives to describe the World's Only Corn Palace. The Corn Palace is a block-long, five story, 3,500-seat auditorium, crowned with multicolored, Moorish inspired minarets, turrets and kiosks, its exterior redecorated each September with immense, newlycommissioned murals constructed from South Dakota corn, grain and grasses. And it looks even stranger than it sounds.

The present structure, built in 1921, is the third in Mitchell's series of Corn Palaces. The first was designed in 1892 by one Col. Rohe of Lawrence, Kansas, who had created an earlier Corn Palace for Sioux City, Iowa in 1887: with a bit more civic pride, franchised Corn Palaces could've covered the Farm Belt. Postcards depicting past Corn Palace designs are available from the gift shop which, during peak tourist season, covers the Palace's entire basketball court. The 1907 Palace is a perennial bestseller: its design prominently features a huge swastika on the front corner turret.

As the photos below show, I've driven through Mitchell alarmingly often for someone who lives about 1,200 miles away. Be patient -- this page takes a while to load...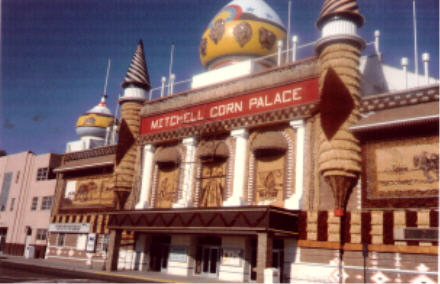 1985 Corn Palace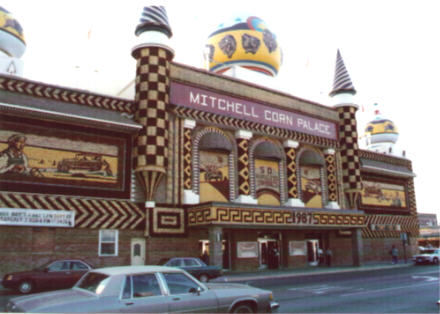 1986 Corn Palace. Theme: "South Dakota Horseless Carriages."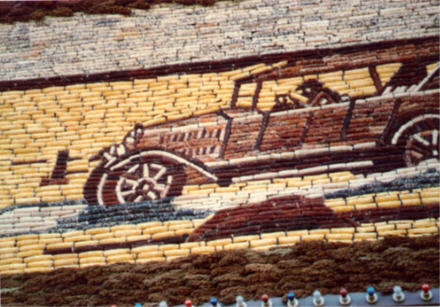 Detail of 1986 Corn Palace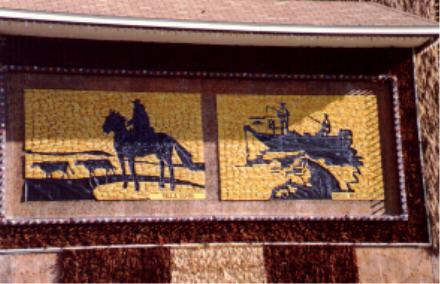 Detail of 1989 Corn Palace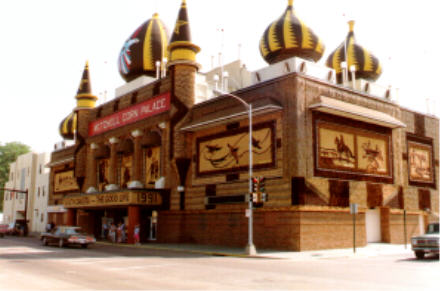 1991 Corn Palace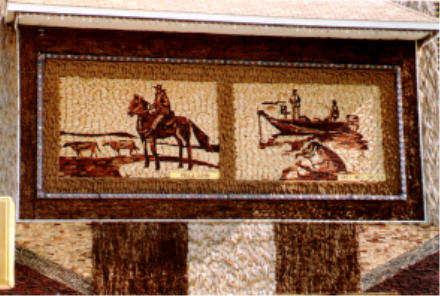 Detail of 1991 Corn Palace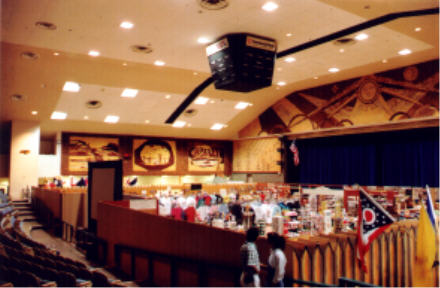 Souvenir shop inside Corn Palace auditorium, 1991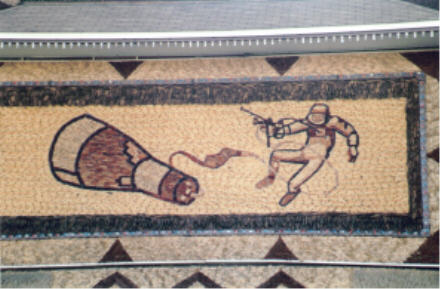 Detail of 1992 Corn Palace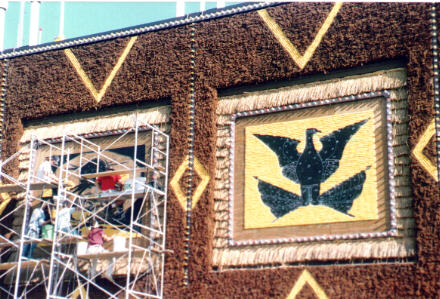 1992 Corn Palace decorations, under construction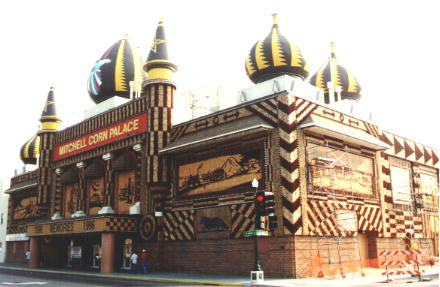 1996 Corn Palace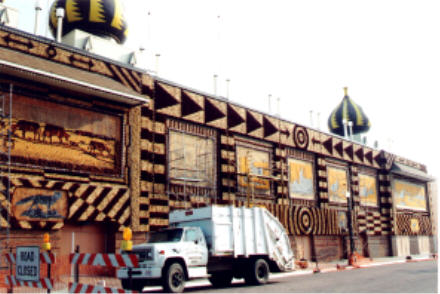 Side view of 1996 Corn Palace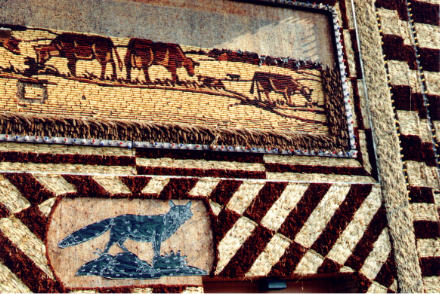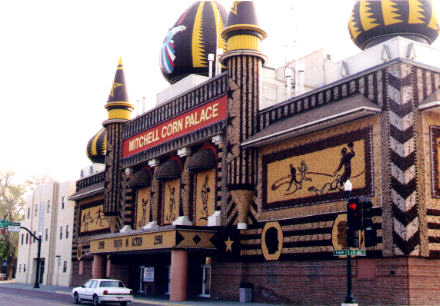 1998 Corn Palace (theme: "Youth In Action")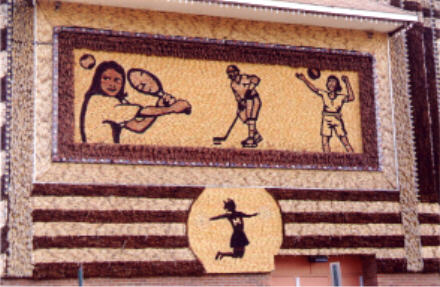 Detail of 1998 Corn Palace




Detail of 1998 Corn Palace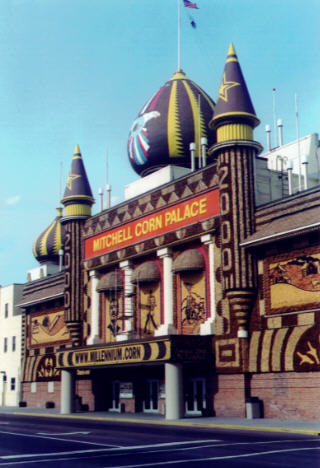 2000 Corn Palace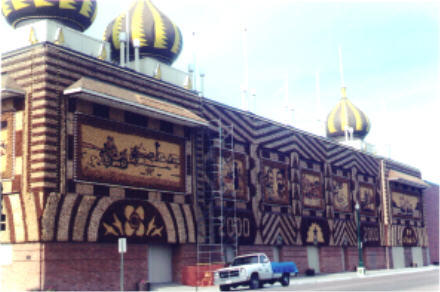 Side view of 2000 Corn Palace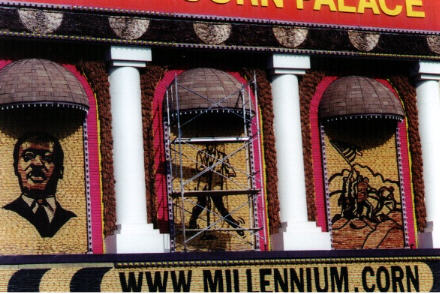 Detail of 2000 Corn Palace: Dr. King and The King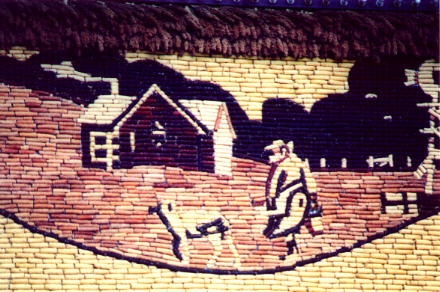 Detail of 2000 Corn Palace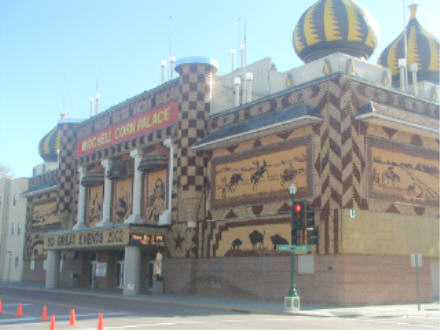 2002 Corn Palace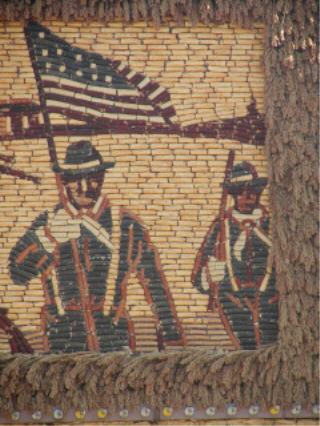 Detail of 2002 Corn Palace

---
Back to main South Dakota page

Back to ROADSIDEPHOTOS.COM home page